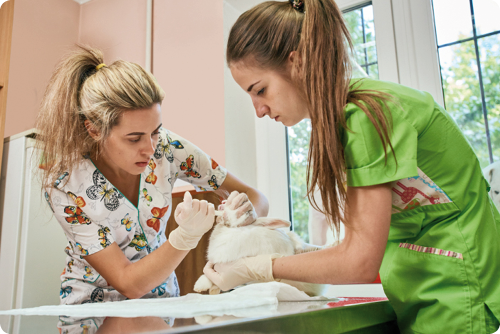 For the 2020/2021 academic year, the PRIGO COLLEGE has prepared for its students a new, unique and desired course within the regulated profession of Veterinary Medicine. The classes are taking place in the modern classrooms of our partner PRIGO College in Havířov. Our school has undergone a demanding process and received a positive opinion from the Labour Office, the Czech Chamber of Commerce and veterinary surgeons for both full-time and part-time studies. The graduates receive the DiS degree (associate degree).
This specified course, whose graduates meet the requirements of the Veterinary Care Act, is currently not offered at any other higher vocational school in the Czech Republic.
The training of veterinary physicians and veterinary assistants is closely linked. Our primary goal is to prepare our graduates to independently provide animal care and fully-fledged assistance to veterinary physicians in all types of veterinary facilities, whether at veterinary clinics, veterinary offices or other facilities designed for breeding and care of animals (e.g. in rescue stations, animal shelters, farms, ranches and therapeutic facilities). Additionally, our goal is to prepare our graduates for the work in state veterinary supervision or research in veterinary medicine. In cooperation with physicians, our graduates will be engaged in preventive, curative, diagnostic, therapeutic and urgent care. Students will be taught also under the guidance of experienced and qualified veterinary physicians with long-term experience in veterinary medicine. The classes will be participated by veterinary physicians working at veterinary clinics and offices. Graduates will pursue a regulated profession and meet the criteria under the Veterinary Care Act. Graduates receive the DiS degree upon the completion of studies.